With the growing power and influence bloggers have with consumers, combined with their highly engaged audiences, brands are wise to be forming advertising partnerships with blogs.
But navigating a rapidly evolving and dynamic digital landscape, with ever changing rules of engagement, can often raise more questions than answers as brands and bloggers try to keep up with each other.
But, what it does present is an opportunity to be creative with your marketing campaigns to powerfully connect your brand with a blog's highly engaged audience. Whilst the below is an overview of traditional and some more creative advertising collaborations with blogs, you have the freedom to explore, approach and liaise with bloggers to create exciting, new and dynamic marketing campaigns.
// Sponsored Posts
You supply the blogger with a brief and associated links you would like included in a tailored article on their blog. The brief should include number of words, specific keywords for links and a direction for the content.
The blogger should be given freedom to write with their own voice and to be creative to ensure that it sounds like editorial and not advertorial, so as to best connect your brand with their audience. The blogger will need to place a disclosure statement within their post, to indicate that you paid them to write about your brand.
// Social Media
With many bloggers having a large social media reach and connecting with their followers on a daily basis, advertising directly via their social media audience is a great way to get your brand's message across.
You can liaise with the blogger to create a content strategy, with an agreed number of messages/links, posting times and how to word your messages for best traction with their audience.  It's advisable to create a content schedule with ample time frame between posting of messages so that it feels more organic and not spammy. Because no one likes that now, do they?
// Polling
Bloggers with large amounts of traffic who have an audience within your key demographic, are a brilliant resource for you to tap into to gain marketing insights for your brand. You can liaise with the blogger to create a specific number of polling questions, length and best placement on the blog, whether it be on their sidebar or within an article.
If content is required to be written by the blogger to accompany the poll within an article, this will more than likely attract a higher fee than a poll just placed within their sidebar. However, embedding a poll within a highly engaging article is more likely to have traction than a simple poll on the sidebar. This will depend on the polling questions being asked and how compelling they are to the blog's readership.
You can also negotiate with the blogger to include the poll in both an article and on the sidebar.
// Reviews

Because of the personalised connection bloggers have with their audience, bloggers have become strong market influencers. Recent social media conversation has indicated that many readers will buy products and brands that bloggers have reviewed on their sites, because they trust in the blogger's opinions.
Reviews can take place in a number of ways. Some bloggers will accept product in exchange for a review, whilst others will charge for the review and either keep the product or return it to the brand. Whilst many bloggers will blog for lipstick, others place a higher value on their time and increased reach.
Whilst there is nothing wrong with bloggers blogging about your product in exchange for product, many will be insulted by requests from PRs and brands to spend their time writing in return for a free bottle of dish washing detergent. That's not a good return on their investment, nor does it respect their audience who they have worked hard to build, often after many years of blogging without income.
Reviews can be on their blog, but many bloggers have large audiences on their you tube channels. Video reviews give the reader a chance to really connect with the blogger's personality and demonstrate how your products can be used in viewer's lives.
// Giveaways
Another way to promote your brand is to offer your product to a blogger to giveaway to their audience. With a large number of blogs now running competitions that are promoted on social media, it is a good idea to offer a prize of good value to ensure traction, conversion of entries and thus maximised exposure of your product or service.
Many blogs will not charge for you to offer product to their audience, however many will as again you are leveraging off their readership and it takes the blogger time to write the competition article.
You should also discuss with the blogger whether your product/service will be featured exclusively within the competition or alongside other brands. You can also create targeted entry methods that include social media following or newsletter sign up.
However, with or without targeted entry methods, your brand will experience an increased level of exposure as competitions always generate  spikes in traffic. Because, hey, who doesn't want to win free stuff? But remember, the prize you are offering must be of good value and the easier it is for people to enter, the more successful the competition will be.
Personally, I have turned away from newsletter sign ups and social media following for the future direction of advertising on my magazine, and moving towards more creative entry methods for high value prizes, which open the door for more fun and interactive social media engagement and forwarding of the brand within my audience.
 // Banner Advertising
Banner advertising is one of the most traditional forms of advertising with a blog. It's pretty straightforward. You supply the blog with an image and they add it to specific places on their blogs. Media kits will detail varying placement options and banner sizes, with varying costs according to key traffic sections on blogs. Just like a newspaper, above the fold is always best.
You should also check how many page impressions your banner will receive during your advertising period. Some blogs will offer you 100% of the page impressions, whilst others may rotate advertisements within the same space. You can weigh this up with the number of unique & page views the blog receives, in order to determine how much exposure your banner will receive.
Where possible, you should consider designing a banner that visually resonates with their audience, versus just supplying the same banner to every blog you advertise with.
 // Brand Ambassadorships
Brand Ambassadorships provide you the opportunity to align your brand with a blogger who represents your brand's values. Whilst there are not specific guidelines for brand ambassadorships, this does give you the opportunity to tailor a package to promote your brand via various channels, which can include content creation, social media marketing, speaking engagements and event appearances.
Bloggers will not typically have this included in their media kit, but this does not mean they are not open to a brand ambassadorship.
// Affiliate Advertising
There are many affiliate platforms available for you to upload your banner for bloggers to publish on their sites. You can choose to approve which bloggers applications you want to approve, or allow instant approval for the blogger to be able to download your banner for their blog.
When their readers click on your banner and purchase your products, the blogger will receive a commission from the sale. The affiliate agency will also charge you to become an affiliate.
// ABOUT THE AUTHOR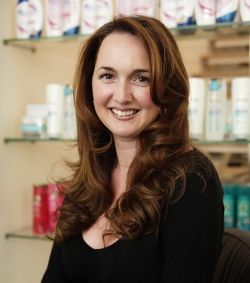 Gaynor Alder :: Blogger Connect PR & Relationships Manager
A former recruitment consultant, Gaynor has always been passionate about nurturing people's potential and connecting them with opportunity. Naturally creative and one to play by her own rules, she left behind the corporate world to follow her calling of becoming a writer. She's happy to say she's never looked back, and now has a team of over 30 writers as the editor-in-chief of The Modern Woman's Survival Guide and Teenage Girl's Survival Guide. She also freelances in public relations (her other great love), executing strategic online marketing initiatives to connect brands with audiences and build social media platforms. She loves the power the online world provides for entrepreneurs and creative people to create successful businesses and a live a life they love. As a blogger herself, she believes in building supportive online communities and that there's space in the blogosphere for everyone to succeed.
 // BLOGGER CONNECT NEWSLETTER
Subscribe to our free newsletter which unifies both bloggers and brands with expert blogging advice, brand education, notification of new members and industry news.